It's science week in the Alopecia Areata Support Network blog. With the growing surge for women in scientific careers, we have the pleasure to interview Gina DeStefano, a scientist excelling as a 5th year PhD candidate in the department of Genetics and Development at Columbia University. Currently, Gina works in the Christiano lab at Columbia.
Part One of Gina's story: Why she is a genetic researcher and how she moved from music to science.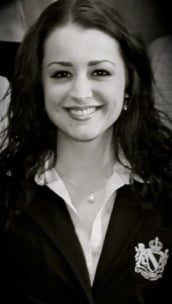 Thea: More and more, I'm meeting girls and women who are intrigued by science careers. What's been your academic route?
Gina: My Bachelor of Science degree in Cellular and Molecular Biology is from Hofstra University (2009). My Masters of Arts/Philosophy in Genetics and Development is from Columbia University.
Thea: Did you always know 'This is what I want to do'?
Gina: Interestingly, no. I'm a classically trained pianist and vocalist so the first half of my life pretty much consisted of performing, writing songs, and teaching piano. It was in high school that I fell in love with biology and genetics. I was on an AP bio trip to Cold Spring Harbor labs to do some experiments and that was it! I remember thinking how amazing it would be to become a scientist and study the genetic basis of human diseases. My interest really solidified in college.
I love to teach. I did research, worked as a teaching assistant and when the chance came up to take a graduate level genetics class in my senior year, I took it. That's when I decided I wanted to get my PhD in genetics so I could become a professor.
Great Opportunities Bring Choices
Thea: With your eye on that goal, what next?
Gina: Over the past few years, my interests evolved quite a bit. When I first came to graduate school, I had a limited, perhaps "textbook" perspective as to what genetic research is. One of the many great opportunities of this program at Columbia is the chance for diverse research experiences.
Thea: With so many options, how did you choose?
Gina: In the first year, students are required to rotate in three labs before committing to one lab in which they will pursue their thesis work. This really helps to get a feel for the science and lab environments that are out there. For some students, it's not the lab they initially thought it would be.
For me, working in three very different labs shaped my research interests quite a bit, allowing me to get a taste for classical genetics, developmental biology, epigenetics and the complex regulation of gene expression, molecular biology and human genetic diseases.
Being at a place like Columbia with an abundance of resources and talent is truly an amazing growth opportunity, both personally and professionally. I really find this environment to be very supportive and conducive to collaborations with graduate students who make up a well-connected, close-knit community.
And just as much as I contribute, I learn a lot from my peers.
Influences Along the Way
Thea: Were there definite turning points and sparks of inspiration?
Gina: Absolutely. Just from thinking about and imagining science as if it were coming to life… it's so funny, but I would envision certain genetic events as active and dynamic processes, like a cell dividing, chromosomes moving around, genes being transcribed and translated, etc. I'm revealing the geek in me!
Thea: I'm really seeing you're a natural teacher --- making science come alive!
Gina: The thing about doing science is that you really cannot, and will never know everything... think of it like peeling a never-ending onion, only without the tears. Biomedical research is ever-changing and rapidly growing. Especially with all the emerging technologies, we have great tools to study new problems.
Thea: How about influential people? Who were they?
Gina: Many people encouraged me to pursue this path: professors, family, and friends. My high school biology teacher played a major role in my decision to pursue a biology major in college.
My college genetics professor was really passionate about her work and inspired students. She was my primary advocate when applying to graduate school and was also the only professor who encouraged me to apply to an Ivy League institution. Her support has had a lasting influence in how I mentor students.
The Most Important Support of All
Tha most important support came from my family. Although not scientists, they have always expressed an interest in my work and listened to all my stories/exciting moments. When my manuscripts were accepted for publication, they were the first to know.
They eagerly read everything even though they did not understand a word (aside from my name of course). So really, I would not be the person I am today without their love and support.
---
Next week we'll continue to follow Gina's career and learn about a typical day in the lab. And, we'll see how Gina is personally dedicated to improving the professional growth of other women in STEM fields (Science, Technology, Engineering and Mathematics).