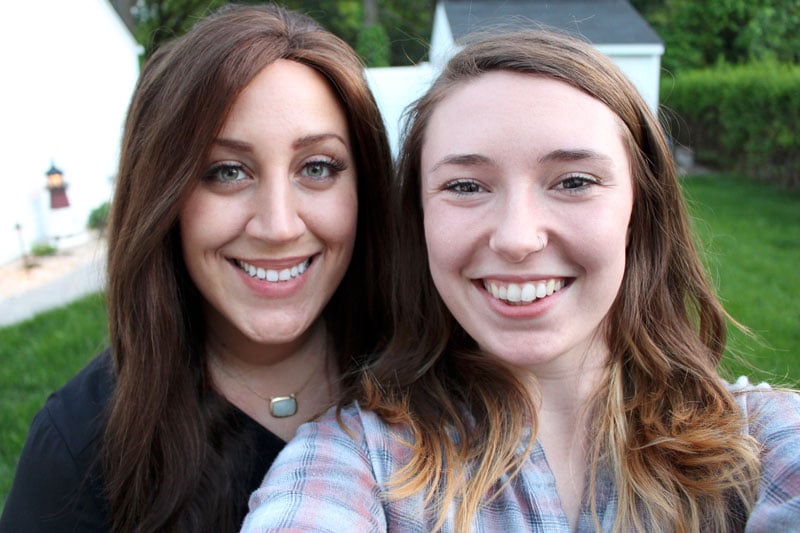 When friendship includes alopecia areata, it's a new opportunity. Heidi grabbed it for her friend, herself and then got in touch with us at Bald Girls Do Lunch.
"When Allison first told me she had alopecia, I thought oh…okay! If anything I was excited. I'm a makeup artist and her makeup routine when we first met was lengthy to say the least. I'm so excited for Allison to be able to meet other women with alopecia. The environment that BGDL provides is just perfect."
Our BGDL mission promotes communication to keep life normal, build relationships and self-confidence. Naturally, we wanted to hear even more about Heidi's take on how to help a friend.
Through email interview, she shared and showed us the power of friendship.
"I had heard of alopecia before, having met people who had it through friends. Allison and I are like two peas in a pod. We met through a friend at Wednesday night Karaoke; have weekly sushi dates; and celebrate good things with "cheers". A not-so-good day for either of us is about 'Okay, what can I do? Want me to come over? Need space? Let me know, I'll be there."
What I noticed was that alopecia wasn't talked about much at all in Allison's household or among friends; it's almost been like she's been living a "double life." She's had her routine that she's stuck with for 18 years … no one sees her without her hair on. No one talks about it.
I try to remind her that alopecia isn't something that needs to be hidden, despite what she's grown up believing. It's not something that has to be ignored, kept a secret or not talked about.
It's a beautiful part of her story and who she is. I don't know that she would be the amazing friend that she is if she hadn't gone through this.
I'm a go-getter. I've done a lot of research about different hair types, brow sealers, eyelashes, looking for alopecia 5Ks, meet ups, everything! I let her know if I find anything.
For Allison, I'm sure it's a nice change to have someone who isn't "just okay" with her having alopecia, but is actively supportive and interested in it.
I love being that for her!"