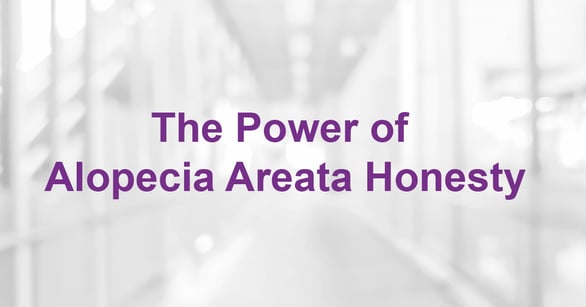 A daring grade schooler and her proud mom reveal why they choose to address alopecia areata head-on within family, school and community. Their insights on squashing bullies and using art will inspire smiles.*
Rylee Ducharme was first diagnosed with alopecia areata when she was just seven years old. In December 2015, her mom, Johanna Hampson-Ducharme, found a small bald spot the size of a quarter on the back of her head.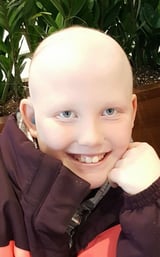 "She had long, beautiful, thick blond hair," remembers Johanna. "The spot would grow in and fall out again, but it always remained small and easy to cover with the rest of her hair."
For the first two years, Rylee endured a couple of different topical treatments, but nothing really worked and she didn't like the treatments; they made her scalp tingly and her hair greasy. Rylee opted to stop treatment.
Rylee's bald patches were unnoticeable until September 2017, when the first really noticeable spot appeared—right before her school picture day. That was the first spot she decorated with stick-on gemstones.
Now 10 and a fifth grader, blue-eyed Rylee, who has an infectious, Julia Roberts-sized smile, has never had any regrowth; the only hair she has left are sparse eyebrows and eyelashes.
Rylee, who wants to be a paleontologist, talked to us about how and why she went bald, where the idea for decorating her scalp came from, shutting down bullies and the hamster who loves her smooth head.
Bald Girls Do Lunch: Rylee, what are your favorite subjects in school?
Rylee Ducharme: I like reading and gym sometimes, especially softball.
BGDL: What are you reading right now?
RD: Warrior Cats. It's about good cat clans that fight evil cat clans.
BGDL: Sounds like fantasy. In real life, you've been dealt a harsh reality with your diagnosis at such a young age. What was scariest for you?
RD: Well, I was scared and sad because my six-year old career dream was Rapunzel.
BGDL: Your mom says you had gorgeous hair.
RD: Yes, well, but it was also tangly a lot.
BGDL: Your mom says you had gorgeous hair.
RD: Yes, well, but it was also tangly a lot.
BGDL: Johanna, when did Rylee's hair loss accelerate?
Johanna Hampson-Ducharme: By October 2017, Rylee came out of the shower with a big clump of hair in her hand; by Christmas, she just had a few wisps of hair left. She refused to shave it off because we were taking a vacation to Jamaica in January and she was determined to have her hair braided on the beach.
BGDL: And did she?
JHD: Yes. It was one tiny little braid, but it was a braid, she was happy with it. That braid was the very last of her hair. It held on for almost two weeks.
BGDL: What happened next?
JHD: Near the end of the trip, Rylee asked me to cut it off. It was literally hanging on by three hairs. As a mom, that was a tough moment for me. Rylee was fine with it, but for me it made it real. She was now really a bald girl.

BGDL: Rylee, what did you do with the braid?
RD: I went to show my grandparents and then I taped it into my journal.
JHD: I went in the bedroom and cried for about 10 minutes.

BGDL: You are a courageous girl. We understand your little brother is your protector on the playground in case someone tries to bully you. That's very sweet.
RD: It's kinda silly because he's younger than me! If anyone tries to bully me, my friends give them death stares. One person said, 'That girl's weird.' I just told her straightforward, 'I have alopecia and that's just the way it is.'
JHD: Seeing Rylee's strength and acceptance is what has gotten myself, her dad and her little brother through it.

BGDL: So you are taking the direct, honest approach.
JHD: Her school has been great. When her hair was rapidly falling out, her teacher let me give a quick talk about alopecia to normalize it. I told them she was healthy, not sick, that she didn't have cancer and it wasn't catching.
BGDL: How did Rylee's classmates react?
JHD: Nobody laughed or giggled. They asked respectful questions.
BGDL: Rylee, you live in a small town outside of Ontario, Canada. It's not easy to be anonymous in the place where you grew up and everyone knows you, unlike in a big city. Your mom says you have a lot of pressure to be a role model.
RD: Well, yes, everybody knows everybody. I chalk it up to Canada…Canada is too nice for the world! Everyone wants to be supportive.
BGDL: So thinking back to that school picture day in September 2017, can you tell us how you decided to handle the bald spot? We think it's so clever what you did.
RD: Mom and I found this video of a girl who had alopecia areata and decorated her head with stick-on gems for crazy hair day at school. We thought it was a really nice and easy thing to do, so we went to the dollar store and bought some gemstones.
BGDL: You look so amazing! What did your friends and teachers think?
RD: They loved it!
BGDL: It's a really creative way to go through the world with alopecia. What design will you do next?
RD: I'm looking for unicorn stick-ons.
JHD: For the last day of school, she has a plan to paint her head yellow and then paint an emoji face on the back of it!
BGDL: You are currently sporting a beautiful, semi-permanent, traditional henna tattoo that got 160 Likes on Facebook. Tell us about that.
RD: A Hindu lady came to my house and drew it on my head—freehand!—in like, 15 minutes.
JHD: She has a beautiful, round head.
RD: It looks machined. And because my skin is really pale, it's stayed on a really long time.
BGDL: And what's this about a pet who likes to hang out on your head?
RD: That's Nippy, my hamster. He got that name because he used to bite. He didn't like my head when I had hair. But now he enjoys the sensation, I guess.
*This interview in 2018 has been lightly edited.

Bald Girls Do Lunch supports women of all ages who are grappling with alopecia areata. The learning goes both ways: younger women learn from older women who've walked the path, sure, but older women also gain a new point of view from those who could be their daughters or granddaughters.
For more information on supporting women with alopecia areata, visit www.baldgirlsdolunch.org or email hello@baldgirlsdolunch.org