Friends, I want to share the story of an exceptional young girl and her mom. Their direct approach to talking about alopecia areata inspires and works well for people of all ages.
Rylee Ducharme was first diagnosed with alopecia areata when she was just seven years old. Her mom, Johanna, found a small bald spot the size of a quarter on the back of her daughter's head.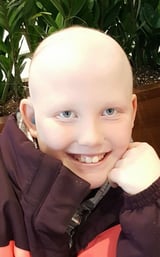 "The spot would grow in and fall out again, but it always remained small and easy to cover with the rest of her hair" Johanna recalls. Topical treatments followed, but nothing really worked or felt ok.
"My scalp was tingly and my hair was greasy" remembers Rylee.
Then suddenly it happened! Everyone could see a new bald spot on top of her head—right before her school picture day. Rylee's solution to this glaring problem: decorate it with stick-on gems and start talking to friends. Rylee admits "Well, I was scared and sad back then because my six-year-old career dream was Rapunzel."
Whether you're an adult or a grade schooler, talking to other people normalizes alopecia areata.
The months passed. A big clump of hair came out in her hand in the shower. Soon her scalp was down to just wisps of hair. "She refused to shave it off because we were taking a vacation to Jamaica and she was determined to have her hair braided on the beach. She had one tiny braid and was happy with it.
It held on for two weeks and that was the last of her hair, "says Johanna of a tough moment. "Rylee was fine with it. But for me it made it real. She was now really a bald girl."
I'm sharing Rylee's story because she lives a core Bald Girls Do Lunch value. It's empowering to connect.
For dealing with comments about her looks, Rylee discovered that the direct approach was just right.
"When someone said 'That girl's weird.' I told her straightforward, 'I have alopecia and that's just the way it is.'"
Mom, Johanna, was also pro-active. "When her hair was rapidly falling out, her teacher let me give a quick talk about alopecia areata to normalize it. No giggles. No laughs. The kids were respectful."
YOU make the difference for a girl like Rylee
With only $5 you can make a difference in the life of a woman, teen or girl with alopecia.
Your $5 today helps to extend the support of Bald Girls Do Lunch for every woman and girl who needs it!
Whether your donation is $5 or $500, your gift of any size will improve her life.