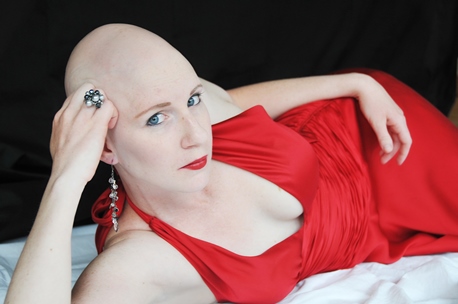 Shannon Smith was diagnosed with alopecia when she was 18. We talked with her in September 2013 about being diagnosed with alopecia as a young person, and how she coped. It was her positivity that really rang through in her story.
"For someone who was just diagnosed, I would just say be as positive as possible, and don't be too hard on yourself. It's important to keep people around you who support you and love you and don't see you as a bald person."
We have stayed in touch with her over the years by email and had the fun of meeting in person at two Bald Girls dinners in Denver. When I saw the results of a recent photo shoot she did, I knew we had to have a follow up.
"I decided a few weeks ago to do a bald photo shoot in an effort to be more comfortable in my skin and love myself," Shannon told me. "I shared some of these photos on Facebook and the praise I got was fantastic! People can definitely surprise you if you are willing to be open and share things."
Below, Shannon gives advice to young women with alopecia on the dating scene, as well as growing comfortable with your alopecia and trusting those around you.
The BGDL Article Made Her Happier
The article in September was a way for me to be like "Here I am. This is how things are." It was also a gateway for me to be more comfortable with having alopecia areata and talking to people about it. I recently did that photo shoot because I wanted people to see me. I mean really see me. It was a way for me to be vulnerable and let people really see what I look like without the hair and makeup. The response was overwhelming and made me feel great! A lot of people said I should be a model and that I was brave for doing what I did.
I sometimes joke about having AA so I can feel more comfortable about it. If we can't laugh at ourselves, how are we going to live with ourselves?! It has been almost 7 years since I was diagnosed and I decided it was a good time to be okay with having alopecia areata.
I feel like after talking about AA and showing people, it has made me a much happier person. I used to try and hide it but I just don't see the point of that anymore. If people can't accept a bald head, then you don't want to be around them anyway! A bald head doesn't change the person inside and if someone doesn't see that, then you are better off without them.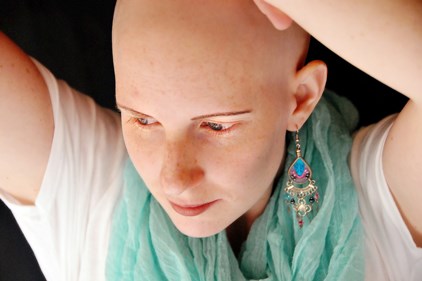 Dating Advice for Women With Alopecia
I would tell people my age that are dating to be 100% honest. If you aren't honest and you try and hide something about yourself, you shouldn't be with that person anyway. When I first met my husband I wasn't even interested in him. I actually thought he was a jerk! I told him that I wear a wig and he said "You do? Wow! That is so cool! I bet you look hot with no hair."
You need to be honest and if the person you are dating can't see past the baldness, that isn't a relationship you want to be in.
Marriage and Wig Advice
For women getting married I suggest getting a brand new wig right before the big day! It always looks the best when it is new. I wear a wig because it makes me comfortable, but it also makes people around me comfortable too. When I don't wear my wig I always get awkward questions and I like to avoid that, even if I am really open to talking about it.
Thinking About the Future
My husband and I are looking into starting a family. I am scared. I would hate to ever give one of my kids Alopecia Areata. At the same time, I feel like I can handle that and support my child if that ever happens because I have been through it.

Photo credit: Studio B by photographer Beth Poe