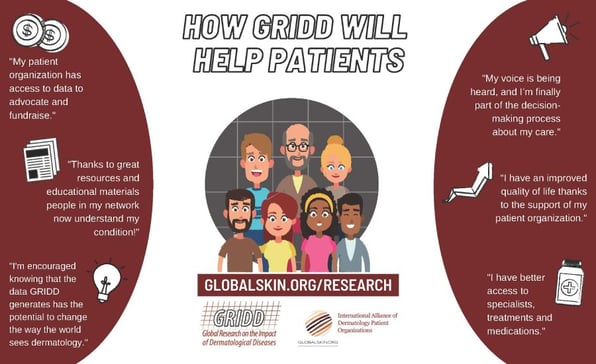 Survey is live through January 31st
You're invited to participate. The International Alliance of Dermatology Patient Organizations (also known as IADPO or GlobalSkin) would like the Bald Girls Do Lunch community to be part of a unique research survey. In this project named GRIDD, the dermatology patient is the expert. Your opinion truly matters!
URGENT: This survey is live until January 31, 2021
With the guidance of dermatology patients and patient organization leaders around the world, the GRIDD project (Global Research on the Impact of Dermatological Diseases) aims to develop a global impact measurement tool. The goal is to better understand how dermatology conditions affect the lives of dermatology patients around the world.
You're Important!
The GRIDD project is now in Phase 3 for Patient Data Verification Delphi. In this phase, data is gathered via two surveys from 2000 adult dermatology patients representing as many different dermatological diseases as possible. Survey participants are from all regions of the world.
Bald Girls Do Lunch is a proud member of GlobalSkin. We are hoping for a large participation from alopecia areata patients. Will you help?
The survey will ask questions about your experiences living with alopecia areata or another of your skin conditions. You'll be asked to do one survey now and a second one in eight weeks.
By taking part in this phase and completing the two surveys, 8 weeks apart, you'll be making a significant contribution:
To improve the lives of alopecia areata patients, and

To improve the lives of all dermatology patients around the world
URGENT: The survey is live until January 31, 2021.
You'll be able to start, save your answers and complete it in another session.
For more information about GRIDD, GlobalSkin or to contact GlobalSkin staff please visit GlobalSkin.org/research