Baby, it's cold outside in much of the USA this month! Let's talk about Alopecia Style™ with some new twists. Not only are we getting fun and versatile for our friends in the deep freeze, we can adapt these ideas for layering hats and "hair" in all climates.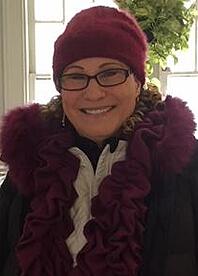 Bald Girls Do Lunch and Alopecia Style™ encourage choice in everything you wear and when you choose to wear them. In this frigid February, warmth really matters, but so does feeling cheerful when the skies are gray.
Here's my thinking for perking up a black coat, staying warm, comfy and adding color to combat gray skies.
The steps and parts are deconstructed below.
Hats, scarves and fabrics that feel really soft against my neck, face and scalp
Hues that flatter my skin
Mixing colors for contrast, texture and a happiness factor
Layering a liner for extra warmth and volume
Clipping on compact "hair" for greater ease tossing scarves and shoulder straps (a change from my usual long straight locks)
Creative spark: The first wave hit when sorting through a back-of-the-closet bin of accessories. I spied synthetic curls attached to a strong butterfly claw-clip. Curls! That will be a change of pace.
Color: My favorite, fuschia
Texture: Wavy, feminine and soft scarf to contrast with solid puffer-coats.
Length: Long scarf for an elongating vertical line; hat filler for height
Layers: Under-hat stretch liner + curly hair gripping the liner + Belgian cashmere hat pulled over all
Note: A straw or braided summer-weight hat would work just as well in warmer weather
| | | |
| --- | --- | --- |
| | | |
| Hair on claw clip | Clip attached to liner | Finished look! |
I've never ever worn curly hair, so this was totally fun to have these curls dancing around. Do you have layering ideas and creative combinations? Share with us in the comments below!