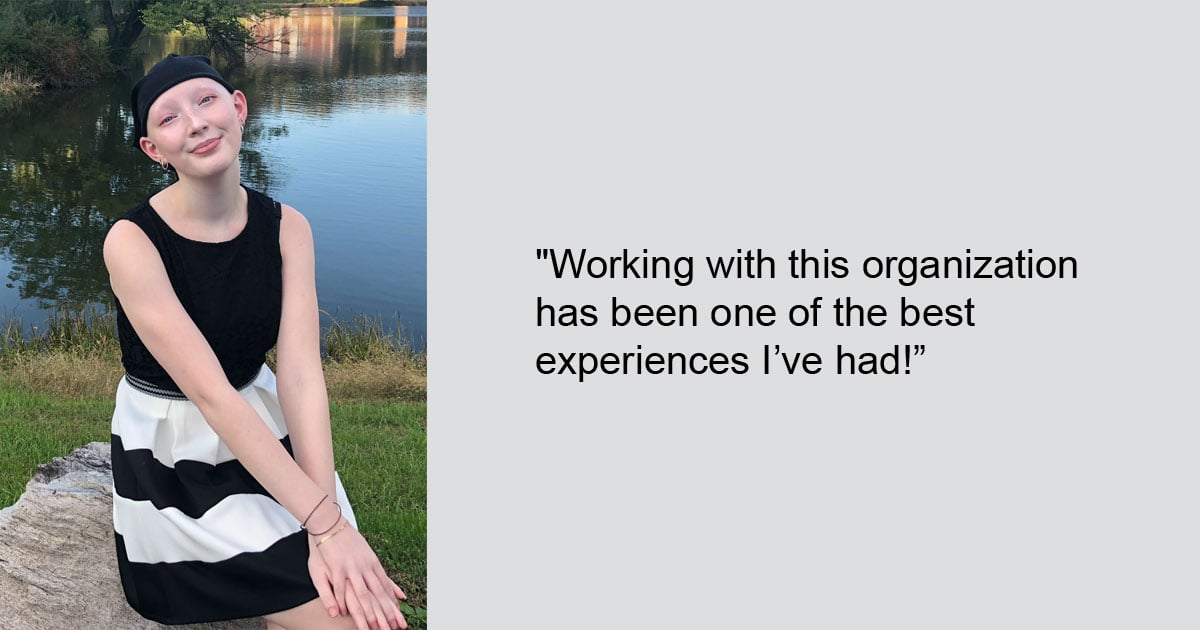 Hello with warm, heartfelt greetings to you, our Bald Girls community and supporters.
I've been keeping a special volunteer a bit of a secret, but no more!
Today, I'm introducing Hannah Frey.
You may know firsthand that people living with alopecia can feel alone and isolated, especially in a pandemic. Because of you, our teen volunteer, Hannah, gathered with Bald Girls Do Lunch virtually.
Let me share Hannah's story. It shows just how much our alopecia areata community means to this high school senior from Maryland.

Hannah has been living with alopecia universalis for most of her life. Even at this young age, she knows the discomfort and isolation that can come with this skin condition.

Hannah volunteered to work with me on a virtual alopecia community event. This was during a time when gathering in person wasn't safe or possible. But the need for connection was just as strong – if not stronger!

As she helped with the virtual event, she experienced something very special. Hannah found a safe place to share her own experience and a new level of comfort with her own hair loss.

"Bald Girls Do Lunch has a brilliant way of creating a safe atmosphere for all women who are experiencing their own form of hair loss." ~ Hannah

For this young woman to experience that safe atmosphere – I can't quite put into words what it meant for me to hear her share that. Because that is the reason Bald Girls Do Lunch exists.

A safe place to share. Connection. Understanding.

I hope Hannah's story in her own words encourages you today.
Through your connection to the BGDL community, you have created a safe place for Hannah and so many other women with alopecia areata.
Thank you from the bottom of my heart.
Gratefully,
Thea D. Chassin
Founder and CEO
Bald Girls Do Lunch
P.S. If you feel moved to help another woman living with alopecia find community and connection, please send a small gift. I've included a link here so you can easily give a secure gift online.