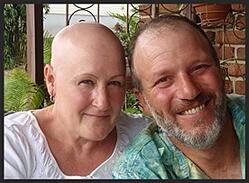 Patti lives in Berks County, Pennsylvania, with her husband, Joel, and their two (very spoiled) dogs, Sadie and Homer. After taking an early retirement 7 years ago, she started working part-time at her local farmer's market, a place she's shopped for many years and actually used to shop with her parents when she was a kid.
Patti discovered that she had alopecia nearly 10 years ago, but the diagnosis did not come as a surprise – she has a long family history with this disorder. Read her story in her own words.
---
Inheriting Alopecia From Her Family
I was going through a stressful time – they had called us together at the company where I had worked for 25 years to tell us that they would be downsizing. At the same time, we had a crisis in the family – my cousin's youngest child was missing. That's what triggered it and I started to lose my hair. I knew from experience that I had alopecia.
Experience, meaning my sister, a few years before, had dealt with the same thing, and my dad also, a few years before that – my dad totally understood where I was at and he offered to go to all my doctor appointments with me.
After talking with both of them I also realized that my grandfather had alopecia. Nobody ever knew back then why he was totally bald, but throughout the years we put it together that he had alopecia universalis.
My father and my sister only had alopecia areata, but my grandfather had total hair loss after the death of his wife at age 35 (leaving him with five small children to raise).
I talked to my doctor about it, and he said autoimmune conditions are in your body. Those genes are inherited but they come out in different forms. He said with my trauma stress, I could've easily had a heart attack, or an ulcer, or whatever, but my body responded with the hair disorder.
Finding Support With Other Women Who Have Alopecia
Most adults say, "I'm strong, I can handle it, I don't need that support" but I think they're wrong. You need to talk to someone who's going through the same thing as you. It really does make a difference.
There wasn't a lot of support out there for adults when I first found out about my alopecia. I had talked to a local guy, Jeff Woytovich, the founder of Children's Alopecia Project, and he offered to let me come to the children's meetings. He said, "You can come and be one of our big bald kids." And that's what I did!
Eventually it was Jeff that recommended that I try to get to a Bald Girls event. So I took the trip to Philadelphia with my sister. I don't think she had any problems with her alopecia at that time, but she wanted to know what was going on, too. It was really wonderful. The people there never knew anybody else that had had alopecia, so we just stayed and talked about all kinds of things until the end of the night. That's what I was looking for, I was looking for support. And we try to keep in contact.
A few years later I won a wig in a Bald Girls Do Lunch raffle! I only bought one ticket, on the last day, and then Thea called me on the phone the next day, laughing hysterically. She said, "You always wait until the last minute, but you're the winner!" So I got this wonderful wig that I got to color, cut, and style any way that I want. That's probably one of the only things I've ever won in my life.
Becoming an Alopecia Ambassador
One girl that I work with at the farmers market now is a person I've known for 20 years. She watched me go through losing my hair. I would stop by every week and say hi, and I'd have one wig on, or a different wig on, or a different hat on.
Recently, she told me that she belongs to the local church, and she'd like me to come and talk about alopecia at their final meeting of the year. And I said, "Well, what do you want to know?" She said, "It's your opportunity to tell people the real story." I said to her, "Well, most of those people know me, but maybe they haven't ever had the opportunity to ask me the personal questions. So, absolutely!"
I called Thea and told her what I was going to do. She was so excited! She followed up with pamphlets, BGDL Quick Facts and other information. It was really a boost for me to explain the real feelings, the real explanation of what happened to me.
When I gave my speech I hadn't even planned it, I just brought some Bald Girls Do Lunch brochures along and explained all of the wonderful things available now like BGDL eyebrow sealer, wigs, and every hat in the book! I said that there's a way to get through it – you just have to do what you have to do.
Afterwards I had four ladies come up to ask me personal questions, and give me a hug and say that it was one of the most interesting things they'd ever heard. I talk to a lot of girls around here, and I would be willing to talk to anybody that needs a little bit of extra confidence to help them get through this.
I say: don't focus on the hair loss, and strive to just be the best you can. It certainly is not about your hair. You can put a wig on, put a hat on, and move on.
---
We are proud to have Patti be one of our BGDL Alopecia Ambassadors. Are you interested in becoming an Alopecia Ambassador? If so, inquire today and I can help you become a resource, as well as supply you with educational materials to distribute when you speak!
Patt was Interviewed for BGDL by Nikki Baldauf, Senior Production Editor at HarperCollinsPublishers.