Alopecia areata is one of the visible autoimmune conditions that affects people of all ages and both sexes. It's also unpredictable and that means alopecia areata can throw you some huge surprises.
One of the surprises (and shocks) is the appearance of your scalp. If you once experienced growing hair and now you don't, your "look" is drastically changed as your hair comes in, falls out and (for some people) cycles like this continuously.
A tiny fraction of the people diagnosed with alopecia areata lose all their hair everywhere (known as alopecia universalis), while the overwhelming majority have intermittent or patchy hair loss. Most often it doesn't require shaving of the head, but if it does, here are some things to consider.
Shaved head or no shaved head. Should I?
If your hair loss is extremely rapid, how can you get ahead of it and take charge of removing your hair instead of watching it drop literally to the floor or into the sink right in front of you? Taking steps to shave it off can be empowering and minimize the depression that accompanies sudden and aggressive hair loss.
You could have remnants of random hairs that pop up on no predictable schedule.
If you've had decades of hair loss you could still have some soft and often un-pigmented hairs grow in like peach fuzz (vellus hairs).
If your alopecia areata is always patchy, you just never know when or where another bald spot will arise. Shaved head spots give you control. You take a pro-active approach to a neater look rather than waiting for hair to fall out randomly.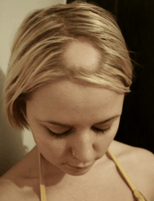 Got blotches of hair? Maybe you're someone who looks and feels better shaving it off as closely as you can as an alternative to the unpredictable nature of a patchy hair cut.
And even when you think there will never be regrowth, a solitary hair could appear seemingly out of nowhere on your head, face, leg or one armpit when and where you least expect it!
For some women, shaving their head is a decision over a long period of time. After all, it feels unnatural to get rid of a part of your body. Some get the help of a friend or partner, others visit a hair stylist or barber, some grab the razor themselves while others invite their best friends over and make a party of it.
You'll know when the time is right to shave your head. You will want to feel in charge and take control of the hair loss.
Gaining Confidence From a Shaved Head
In all my years of meeting and mentoring women I have heard countless women say:

"I have no regrets at all about shaving my head. I only regret that I didn't do it sooner!"

"I feel more like myself than I did with patches of hair here and there. Most of all I feel in control."

Feeling in control raises self-confidence and moves you forward in redefining your look. It doesn't mean you need to walk outside bald every day, or ever. Bald isn't for everyone. Maybe it's not your personality or your work day flows better when you blend in, or it's just not how you feel like "you!" Often an expert hair cut or perm provides more control over the situation. It can buy you some time if it creatively and successfully disguises the bald spots.

Thinking about what makes you feel like "you" moves you closer and closer to self-acceptance and comfort with who you are. (Flashback: when I had long lashes, I never ever went out without curling them. I had to curl them or else I didn't feel like "me." This of course doesn't apply to my looks today, but it is a good reminder to think about what helps you define yourself.)

So while shaving your head might not be for everyone, if that's the decision you've made and you want some advice on how, check out our blog next week when we will load you up with tips on the best way to shave your head.
Have you shaved your head? Do you have tips for others who are deciding whether to do this? If so, please leave a comment below.