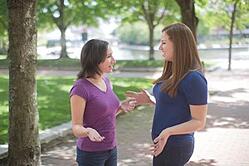 Last week I heard an unusual explanation for the cause of alopecia areata that made me wonder if lots of people have misinformation. If someone asks you what alopecia areata is, do you have a ready answer?
Talking About Alopecia Correctly
Part of the Bald Girls Do Lunch mission is to educate so that everyone with the condition can talk about it accurately and easily. It's not unusual for a family to adopt explanations that are overly simplistic because talking to children requires simple vocabulary. But growing into adulthood, or acquiring adult onset alopecia, requires vocabulary that's correct!
Here are a few examples I have heard:
Do you rely on the euphemism "I'm allergic to my hair"? There are better ways when you know more about this condition.
Last week I heard the retelling from a new acquaintance that she knew about alopecia universalis because a male friend had said that his alopecia was "caused from a virus you know, like HIV-AIDS." Well, that's quite wrong.
A simple and more accurate description is "I have an inflammation at the base of the hair follicles which stops my hairs from growing normally." No hair emerging and continuing to grow from your head due to alopecia areata is a dysfunction of your hair follicles. You are not a diseased person. (And you didn't do anything wrong to cause your alopecia areata). It just is. Like so many others, you are genetically programmed to be susceptible to it. Alopecia areata is an inflammation-induced type of hair loss. It is also a non-scarring type of hair loss. The follicle itself is generally intact but not functioning properly.
At the ready with a few quick word, you'll find more support and understanding among friends, family and co-workers than you expected. If you lead the way for those who are too timid to ask you or just don't know where to begin, it's just better for everyone all around, especially you!
There are often situations where you can bring up the subject of alopecia areata and get the conversation started. Try it!
Finding Accurate Medical Information About Alopecia
I want the people in the BGDL network to know that very good published articles are available from hair and skin researchers all over the world. At BGDL we're committed to helping you find original source articles. Plain and simple, we want you to be really smart about alopecia areata.
If you're like me, you want to know as much as possible. It helps if you have a medical or health sciences background, but you'll be pleasantly surprised that you can learn quite a lot about your condition (what it is, who gets it, what treatment approaches are best tried on what types of patients) by reading the abstracts, summaries and the content of well-respected and peer-reviewed journals.
Guidelines for the management of alopecia areata.

For those inclined to dig deeper than the useful and basic National Institutes of Health booklet Questions and Answers about Alopecia Areata, start with this article from the United Kingdom. That article is a summary of evidence based guidance for physicians that you or your physician may find useful:
>> British Journal of Dermatology: Guidelines for management of alopecia.

Alopecia Areata from the New England Journal of Medicine.
This journal article has excellent drawings of normal and abnormal follicles, with a good overview of topics including the epidemiology of AA, immunobiology of the hair follicle and clinical presentation and management. View the introductory pages online or contact me to learn more about the full article:
>> Alopecia Areata in the New England Journal of Medicine
Note: Always consult with your physician. Thea Chassin and Bald Girls Do Lunch are providing the above information for general interest only and it is not intended to replace consultation with your health care provider.