As part of our continuing celebration of International Women with Alopecia Month, we wanted to share another personal story of a strong woman coping with her alopecia.
Below, is a transcript of my talk with Carly.
When it comes to beauty, bald and style, in my mind Carly is incredibly creative and beautiful. She has an amazing spirit that comes through in her answers, as well as fantastic style and make-up tips for other women with alopecia.
---
Thea Chassin: Tell us a bit about how and when you developed alopecia.
Carly : I was 18 when I first noticed a few patches missing at the back of my head. Those came and went over the next year until they started appearing at the front, and aged 19 I developed universalis, which I've now had for almost 10 years.
Style and Alopecia
Thea: What do you value most? Is it comfort? Color? Warmth? Price? Luxurious textures or unusual patterns?
Carly: Whatever I wear, it has to be comfortable: soft, not itchy, snug but not too tight, especially as I wear headphones for most of my workday.
San Francisco, where I live, can be wildly variable in weather so headwear needs to be snug enough to beat the wind, light enough to keep me cool, but heavy enough to keep me warm. It's also important for me to have colors that suit my coloring but also work with the clothes I like to wear.
My 20s/30s-style caps are a strong look, so when I wear those I tend to keep my clothes simple, so it doesn't look like I'm trying to dress in "costume!"
Thea: Do you have a go-to accessory or make-up style that's become a signature look?
Carly: On my face, my signature look is definitely my winged eyeliner, which I use to make my false lashes look attached (it hides the "join" on my eyelids, since I don't have lashes of my own.) I'm not afraid of stronger makeup, since my face has to "hold its own" with my colorful headwear, but obviously it's important to be office-appropriate, too.
Thea: What's missing in the hat/headwrap/fashion world for bald women?
Carly: More choice! And stylish options that are also comfortable! Often you can only get one or the other, which is a real bind. That's why I like to go "off-piste" and make my own solutions, like turning a stretch cotton infinity scarf into a wrap.
Thea: Do you have any style icons or magazines you look to for inspiration?
Carly: I love the style of the 1920s and 30s, where headwear was a big part of "the look." I'm also liking the 70s turban look right now!
Thea: I imagine as a beautiful bald woman you get lots of compliments. Does any comment stand out as special or funny in any way? Do you get more compliments from men or women?
Carly: People really love the 20s/30s-style hats I wear from Suburban Turban. I mean, REALLY love them! I've lost track of the amount of comments I've had about those. Girls and guys!
Thea: Were you always interested in beauty, makeup and experimenting with fabric? Or was it more out of necessity to feel put together and redefine your look when you lost your hair.
Carly: I've always been a beauty nut, and I absolutely love doing makeup for friends. (I just did my dear friend's makeup for her wedding, which was an honor!) That meant I had a great foundation (excuse the pun) when I started to lose my hair. My approach was very practical. "Right, it looks like I'm going to lose the last of my eyebrows by the end of the month so what can I be practicing now to make sure I'm 'covered'?"
I started practicing on my legs, no joke! I'd sit in front of the TV and practice drawing eyebrows on the surface of my legs with eyeshadow and pencil. When the time came, I knew exactly how to do it on my face, and I felt so much better for being prepared. The one piece of the puzzle that took a few years was being able to do false lashes. When I worked that out, I felt like I had climbed my own personal Everest!
Providing Alopecia Tips Online
Thea: You write the EyelineHer blog! Where did that idea come from? Was there an ah-hah moment at its inception?
Carly: When I first lost my hair I did a LOT of Googling and came across a lot of message boards and forums where people with my condition would chat and seek advice. The trouble was, so many of these places were just miserable places to be: people talking about how unhappy they were, which I didn't find helpful at all. It was like being trapped in an endless feedback loop of negativity. Plus, I hated the thought that this could be what vulnerable people -- who could be younger people, or have less of a support system -- were seeing when they Googled "alopecia tips."
I decided to put my money where my mouth was and start my own blog, which I wanted to be a goldmine of useful, practical tips and tutorials that look a positive stance, rather than a negative one. Back in the real world people were always commenting on how much they like my makeup or asking exactly how I tie scarves, and I thought it'd just be rude to keep all those tips to myself.
At the time, I was also volunteering at a cancer support center, where I was involved in workshops that taught women losing their hair through chemotherapy how to draw their eyebrows back on, or tie a scarf that wouldn't give them a headache with being so tight. Sometimes patients wouldn't be able to make a session because of their treatment schedules and I wanted to be able to say, "No worries, you can watch the tutorial tonight at home online!"
Thea: Your videos are so great. Does it seem like a surprise that you're a "teacher" online or is that in line with how you've approached life?
Carly: It's funny because I've never seen myself as someone who's naturally good at teaching. I just hope my enthusiasm for the techniques and for the difference they can make for people comes through! I for sure welcome constructive criticism on my tutorials, though.
Thea: What's your personal go-to look for work?
Carly: I've always been lucky enough to work in arts and non-profit office environments which have been on the casual end of smart. So I've never felt too constrained by any corporate dress codes! My favorite looks for work tend to be what I like to wear in "real life," which are 20s/30s-style hats and caps, and headscarfs/wraps tied at the side. It's taken a while to settle on a look I feel is truly "me," and even then it changes from month-to-month. Sometimes I'll be in a real hat groove, and the next month I'll be all about scarves.
Alopecia and Work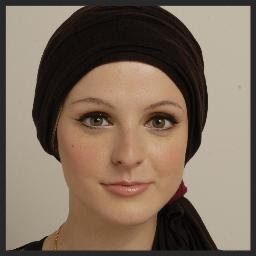 Thea: You've not only been the new person on the job, you did it thousands of miles away in another country. Did that take a kind of new self-talk to prepare yourself? What did you say to yourself before such a big change?
Carly: Alopecia is by no means the worst thing that can happen to someone, but it's certainly a big change to face, especially at a younger age. Whenever I take on a new challenge that might be daunting, whether it's moving continents or changing a job, I always remind myself, "You've faced down more intense stuff, Carly!"
I've also stopped being so concerned with how I'm perceived. My paramount concern with being in new situations -- like, say, a new job -- is that people don't feel uncomfortable around me because they're wondering if I'm unwell or in treatment, and they're concerned about saying the wrong thing. I'd much rather be open and honest with people so there's no needless confusion, without making a big deal out of it.
Thea: What advice do you have for women who can't decide whether to interview in a wig and "tell" later or just go all out naturale from the start?
Carly: I've only ever had a professional issue with my headwear once, where a potential employer jumped to (incorrect) conclusions about my condition and what that might mean for my capability in the job. Needless to say, that's not someone I'd ever wish to work for anyway so no harm there!
Every other organization I've worked with has been fabulous. I've never actually felt the need to mention it at an interview stage, as I don't want to make it a bigger deal than it actually is – but I'm very happy to answer any questions about it. When I do bring it up, often at a later stage, I'll say it naturally and comfortably, which gives people the impression that they can be comfortable talking about it too. I also emphasize that my condition doesn't make me sick.
Same goes for in my personal life. If it comes up, I'll happily explain to people why I look the way I do. Otherwise, there are so many other interesting things about a person to discuss! We're a diverse society and people might wear headwear for a variety of reasons, so people are often really just not fazed by it (or even curious).
Thea: What advice do you have for someone who really wants to work bald in the business world, but needs that final shot of inspiration?
Carly: People are looking at you a lot less than you think. And I mean that in the most positive, motivational sense possible!
Seriously, you can be so tied up in yourself and how you look and how you think people are perceiving you that you forget to live your life. Most people are just busy getting on with it – and you should too. If anybody thinks less of you because of how you look, then that's perfect because you don't need to worry about their opinion ever again.
Also, remember that people have other conditions – sometimes hidden – that you can't see. Yours is visible, but it also doesn't affect your health. Perspective is everything.
Lastly, be patient with people. Sometimes they don't know what to say and they'll say the first thing that jumps into their head. I've had people say "so is that cancer or what?" which used to make me really irritated. Not for me, but because I imagined how hearing that might affect someone who *did* have cancer. People are human, and they make mistakes, and they sometime say silly things. (Goodness knows I have.) Cut them some slack, don't dwell, and don't take it to heart. It's not always about you.