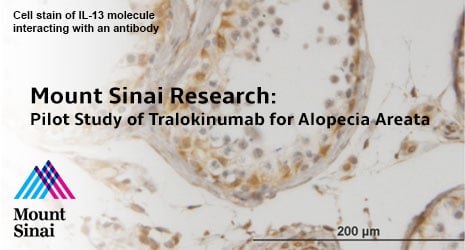 Is there a cure for alopecia areata? No, there is no cure, but researchers are doing clinical trials in search of safe and effective alopecia treatments. Dr. Emma Guttman, in New York is conducting several studies including a pilot study with Tralokinumab for moderate to severe alopecia areata.
Follow along with our interview so you can talk to your friends and family about new studies for alopecia treatment.
---
Q & A with Dr. Emma Guttman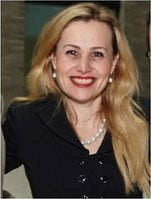 "
This drug has a novel mechanism... it targets a narrow pathway.

"
Chassin: Is this a new mechanism of action or is this trial with Tralokinumab a variation on an existing drug?
Guttman: This drug has a novel mechanism of action compared with current treatment for Alopecia Areata because it targets a narrow pathway.
This allows for a very safe profile with good chances to grow hair in patients with alopecia. It seems that IL-13 may be pathogenically linked to the disease.
Chassin: In what ways are IL-13 molecules linked to the alopecia areata disease?
Guttman: We have shown that the immune molecule Interleukin 13 (IL-13) is highly elevated in alopecia lesions. It was also associated with AA in genetic studies. IL-13 is also highly increased in eczema, a disease which has some commonalities with alopecia areata.
Chassin: Of all the skin diseases you could choose to study with this drug, why did you choose to target alopecia areata?
Guttman: I think it will work for this disease. I would not do it if I did not believe in it.
---
---
Chassin: Tell us about the mechanism of action of this drug and why you think it will be effective.
Guttman: The mechanism is through the inhibition of IL-13 which is highly activated in AA lesions. Other drugs for AA that have shown to work do so by reducing IL-13 and related markers.
Chassin: How is this study similar or different to the alopecia research we discussed in our last interview about one of your other trials with drug LEO124249?
Guttman: They both target immune markers, but this study uses a long-acting drug that is a biologic. It is also a systemic medication. It is taken by injection subcutaneously every 2 weeks. The action of this drug is targeted.
We also expect improvement in eczema. We will enroll patients with both eczema/atopic dermatitis and alopecia areata or with alopecia areata alone.
Chassin: Is this drug in current use for any other medical conditions in the United States?
Guttman: Yes, it is in trials for atopic dermatitis and asthma.
Chassin: What can you tell us about known side-effects?
Guttman: Very safe drug so far. In our prior study for topic dermatitis, our clinic patients did not experience any significant side effects.
Chassin: Do you believe that Tralokinumab would behave any differently from current drugs used for alopecia areata in that it might produce long lasting positive effects not requiring life-long application?
Guttman: Possibly, because it is a biologic treatment.
Chassin: Which patients are best suited for this study?
Guttman: Usually patients with an alopecia areata duration shorter than10 years. Or, if more than 10 years, then it's the patients who showed regrowth in the last 5 to 10 years who have the best chances.
---
---
Emma Guttman, MD is an Associate Professor of Dermatology and Immunology at the Icahn School of Medicine at Mount Sinai in New York City.
Dr. Guttman was interviewed by email in March, 2016.
This study may be found at clinicaltrials.gov with ID# NCT02684097
It is a randomized, double-blind, placebo-controlled, single center study.
---
Have you been or are you considering being a subject for a clinical trial for the treatment of alopecia areata? Give us your thoughts or your experiences in the space below.