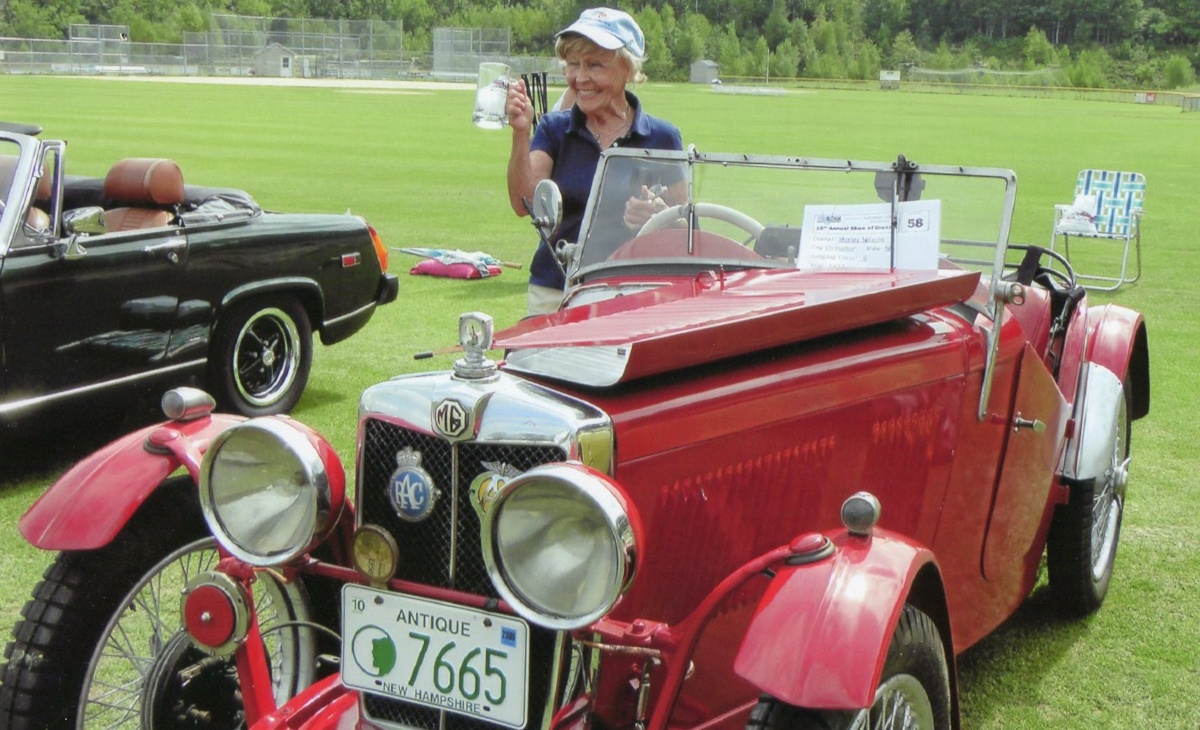 "Mistakenly, he was afraid it might be catching".
Thank you so much for being a valued member in our Bald Girls Do Lunch community.
You've heard first hand how disruptive an alopecia areata diagnosis can be. The shock, anxiety and shame can send women into hiding from social activities, even some types of work. Like Shirley, standing next to her vintage car — her connection to BGDL makes her feel good. She made her adjustments gradually over the years. But she is well aware of the isolation and stigma most women still suffer.
It's only with your help that we'll continue our reach every which way we can. The new year is around the corner. We need to continue to reach women and girls where they are: makeup, phone, email, postal, skype, zoom, text, video chat, face time, Facebook messaging about eyebrows, giving speeches, in group or private breakfast, lunches, dinners or coffees! Whew!
---

Shirley Splaine has no alopecia community where she lives in New Hampshire. Today, I want to share my fun chat with her — a donor to BGDL and like many of you, she's a Bald Girl.
From denial to anger, from grief to acceptance, Shirley went through it all. As a partner in our community, together we guide more women forward when they can't find their way. We do it with grit, grace and good humor. Shirley possesses all three in spades.
MEET SHIRLEY: "I'm a donor to Bald Girls Do Lunch. BGDL is friendly and helpful".
Though we're interviewing her by phone, her crisp, bubbly energy crackles through an iffy cell connection. She laughs a lot and her voice is lyrical, the way you might imagine a hummingbird sounding in a Disney film.
92-year old Shirley was diagnosed with alopecia in middle age, in 1983. She shares her journey and tells us why she advocates a no-nonsense approach.
Bald Girls Do Lunch: You're an inspiration!
Shirley Splaine: I'm an eternal optimist. I'm a very lucky lady. I've had a wonderful life—I still have a wonderful life.
BGDL: What's your secret…we all want to know!
SS: Well, I keep busy. My chief hobby is gardening.
BGDL: You're a master gardener, right?
SS: Yes. I'm also active in volunteer activities at my church here in New Hampshire. And I'm a great grandmother to two little boys. They are the most precious children, a joy to me and everyone else.
BGDL: We also hear you run a museum.
SS: Yes, it's called the Pauline Glidden Toy Museum. My mother was an avid antique toy collector; every dealer for miles around knew her. She died at 98 and left it to me, and I've been running it since 1991. There are 2,000 items in it and I know the history of all of them. I keep saying I'm retiring…
BGDL: You also had a long, happy marriage.
SS: I was married to a wonderful man for 53 years. He died of cancer in 1998 and I lived alone for 13 years. Seven years ago, I met Russ. We have so much in common. My family is crazy about him.
BGDL: How did your late husband react to your alopecia?
SS: My husband, Ed, was beyond accepting, very accepting of it. And, Russ doesn't care about it either. I did once date a man who was not accepting .... he mistakenly thought it was 'catching'.
BGDL: How did your hair loss present?
SS: At first, it came out one piece at a time. I was lying in the sun and my husband could see my scalp, my hair was so thin. Then it went pretty fast and all at once—I lost my eyebrows, eyelashes and body hair.
BGDL: There's still no cure for alopecia areata today, yet that was certainly a different time when much less was known about it. What did you do?
SS: Well, my doctor said 'There are treatments and you can try all manner of things, but none of them work. My advice is to buy a good wig and get on with it.' That was excellent advice.
BGDL: How did you learn about Bald Girls Do Lunch? What's been most valuable to you?
SS: My friend, Deb Fuller, told me about Thea and BGDL. Through emails and phone conversations, I feel like I know Thea—she's always been so friendly and helpful. Because I don't know anyone locally, that's been great. And I love her eyebrow powder and sealer from BGBrows.com
BGDL: And you've never thought to handle your alopecia differently, say by going bald or wearing head scarves?
SS: I've pretty much chosen a path and stuck to it. I'm too busy to worry about my hair. Debbi Fuller has a spectacular tattoo wreath around her head, but I'm terrified of tattoos. I'd rather see hair. But I'm vain about my teeth and work very hard at keeping them!
BGDL: What advice would you give to your younger self? Or to any woman with a new diagnosis?
SS: Listen, I had beautiful, curly hair. But it's gone. Don't moan and groan. Life is short. Put on a wig or hat and get on with it.
BGDL: And how has alopecia affected your personal style?
SS: I love clothes and dressing up. And I'm no expert, but I know how to put eyebrows on!