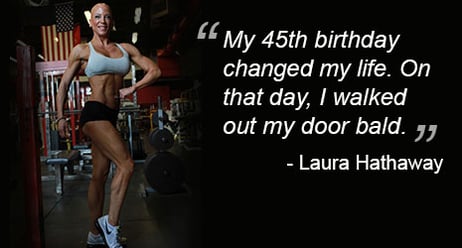 Alopecia Diagnosis & Journey to a New Sense of Self
Professionally, Laura Hathaway is an aesthetician. In her free time she dominates the stage as a nationally qualified NPC figure competitor. She also has Alopecia Areata (universalis), diagnosed in 2006. In her earliest competitions she competed while sporting a wig. In 2015 Laura made the leap to working out and competing sans wig.
"My 45th birthday changed my life and opened personal doors…On that day, I went to the gym with a videographer and photographer .... to workout BALD. It was scary, but I did it. That day led me to competing bald…even though I had doubts. I felt that I could truly bring me to the stage being the real me."
---
Contending with a New Alopecia Diagnosis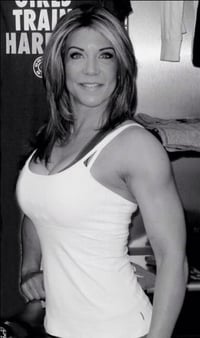 photo credit: Alpha Design Photography
Being the total package of perfection is something Laura strives for, yet when she first began to feel the effects of alopecia she didn't feel so confident. This weightlifter and native of Merrick, NY currently residing in Norton, MA wept when her hair fell out. From those first strands to every last hair on her body, everything was gone within a month's time.
At the time she and her husband Bob were busy parents to then five-year-old Hayley and seven-year-old Reid. In addition the couple were in the bustle of opening a new health club. Life was hectic being a mom, a singer and keeping super fit. Laura started to feel the stress and strain, which left her physically achy and acutely exhausted.
Discovery of the First Bald Spot
But it would take a visit to her hairdresser to discover the hair loss culprit. As she tamed Laura's tresses, the hairdresser noticed a coin size bald area on her scalp. Laura took this as a sign of being overworked and nothing more, but within a week, Laura's hair was falling out in clumps, one handful at a time. She lost her body hair, her eyebrows, her lashes and her luscious locks. She was devastated.
---
---
Battling for Her Beauty
"
Be your own best friend and allow yourself to have 'moments' along the way

."

- Laura Hathaway
Understandably, the alopecia areata diagnosis was quite an intrusion in Laura's busy life. Treatments were attempted and some with extreme discomfort left Laura in pain. She distinctively recalls the moment when she accepted that she was one of the millions around the world living with severe female hair loss.
"I sat [my children] down and explained what was going on. My son said he wanted to grow his hair out for me to have a wig, and my daughter ran out of the room only to return with her Disney Ariel wig for me to wear. They never cared whether or not I wore hair. They simply wanted to see me happy, this has never changed."
Bob was equally as supportive as the head honcho of Laura's personal support system. Laura adds "Bob was my rock. Bob went to every doctor, wig and miscellaneous appointment with me…He sat with me lovingly and cried when I was feeling lower than low to due to the trauma of the fast alopecia progression and shock."
In the next post, we'll find out more about how Bob felt about Laura's alopecia areata in his insightful discussion from a spouse's perspective.
Having a rock solid support system was part of Laura's positive transition. In an effort to reclaim control over her appearance, Laura consults with wig makers of high-end human hair wigs. She's invested in cosmetic tattooing, micro pigmentation and fake lashes. Maintaining such a beauty regimen follows suit with her career paths as a makeup artist and aesthetician. From experimenting with various wig styles and hues, to learning how to maintain micro pigmentation, Laura delved into the countless beauty options available to women with hair loss. Wig replacement and eyebrow refreshing keeps things interesting as new routines in Laura's life.
Laura's Advice
For anyone dealing with Alopecia Areata Laura suggests, "I would recommend getting educated on all facets of dealing with Alopecia Areata from doctors, wig vendors [and] makeup [product companies]. Even if you don't plan to use them at that point, learn all you can. Knowledge is power. Surround yourself with positive people [who] also deal with life altering disease and have been through it. Also understand that it is a personal journey and everyone is different and will move at a different pace.
"I Love the BGDL Lunches"
For Laura, Bald Girls Do Lunch is summed up in four words:
networking, comfortable, supportive and educational.
"I have met some friends at the events...the Bald Girls lunches have always been positive for me where some other events have left me feeling sad. It feels to me that the women at Bald Girls (some wearing hair and some going bald-which never mattered) are looking for the same thing as me: to network and find ways to live with this incurable disease"
---
Laura has truly inspired us with her determination and triumphs.
Bald Girls is here to connect you with inspiration to Live Well with Alopecia™. Share your triumphs and challenges with us in the space below.