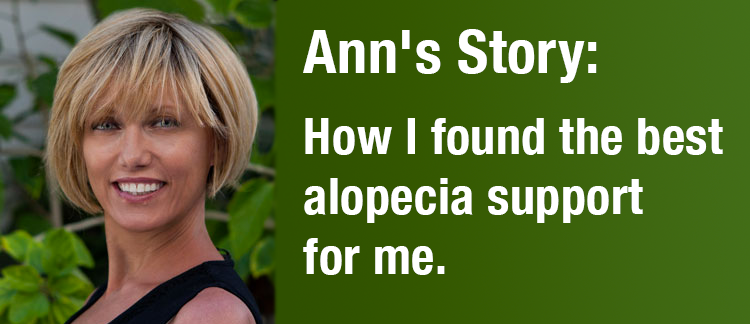 Where do you find alopecia areata support? Sometimes it's very close, just waiting to be discovered within yourself. That's where Ann found it. She told us how she dealt with this disease that wreaked havoc on both her immune system and the core of who she felt she was.

With a healthy dose of laughter and self-love, Ann outran the slings and arrows.
As a teenager, Ann Peyton spent a lot of time and energy trying to look "normal." Sounds pretty normal for a girl, right? But Ann wasn't an average adolescent.
She was just 16 and enjoying a beach vacation with her family when her sister found a bald spot the size of a quarter in her thick, wavy hair.
That's when everything changed.
Ann's bald spots continued to appear and become larger in size. She remembers running her hands through her hair in class and having clumps fall out, a horrifying experience.
"My parents were tireless about treatments," says Ann. "We tried everything, including pills, creams and injections into the scalp—sometimes up to 50 injections per visit. I was even part of a Cleveland Clinic research project."
Despite everything she tried, nothing worked.
By her senior year, Ann was almost completely without hair, eyebrows and eyelashes. She had gained more than 60 pounds due to the steroid treatments. And she was forced to wear a wig.
"I was embarrassed. I felt like I stuck out like a sore thumb."
Conquering her self doubts
After her high school graduation, Ann made a huge, life-altering decision: to discontinue medications and research participation.
"This was my first step to accepting myself."
Now in her 50's Ann wears both wigs and her baldness "loud and proud" on her own terms.
She lives in Harrisburg, PA and follows her passion as an accomplished portrait photographer.
Today Ann is thriving. By overcoming her challenges, she's grown into a joyous person and a role model for others. Donor support brought the Bald Girls Do Lunch dinner to Ann's hometown where women bonded over their shared experiences.
Ann has some sage advice women everywhere who are struggling to fit in: love yourself and have a good sense of humor.
"Laughter has given me strength to get through a lot of uncomfortable and embarrassing moments," she says. "Don't get me wrong, there have been also many times where this disease has been extremely difficult. But I am fortunate to say that I have a plethora of funny stories which have occurred because of this disease."
She wants others to know that they are not alone. Two years ago, Ann went as far as to start a fundraiser for BGDL called Run Without Hair. Proceeds from this event went toward expanding the support network to other women in her region. You can start your own fund to bring BGDL to your city!
---
---
As our reader, you are part of a brighter future for women and teens just like Ann. We couldn't do it without your support. Chip in today for a beauty workshop or Bald Girls lunch to benefit the women with alopecia where you live. Contact us today.