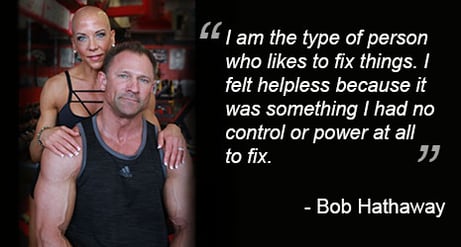 The Bald Girls Do Lunch mantra for living well with alopecia areata is 'Know your options --- use them when you want and how you want."
Surround yourself with positive, supportive people
. This week we're sharing another wonderful story about the choices that partners make. As we learned from his wife in
Laura's story
, Bob has been there for her every step of the way.
Going through the transition of alopecia universalis is tough. But, as the saying goes, when the going gets tough, the tough get going. For
Laura Hathaway
, her husband Bob exemplified this ideal. When Laura's world was turned upside-down due to her alopecia areata diagnosis, Bob stepped up to the challenge of being a super supportive spouse.
---
That's just who he is.
"I am the type of person who likes to fix things. I felt helpless because it was something I had no control or power at all to fix." Bob couldn't stop alopecia areata from altering Laura's world, but he did everything possible to improve her situation.
My Partner Has Alopecia
Fortunately Bob was in a place professionally that allowed him flexibility in his schedule. Bob was by Laura's side through it all, from the moment she told him that the hairdresser first noticed something amiss with her hair to every medical appointment in search for answers.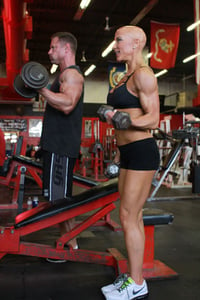 photo credit: Alpha Design Photography
"The normal response [was] that it must be stress, a nutritional deficiency or that she was pulling it out herself. After many frustrating visits and calling everyone we knew, we finally go in with Dr. Goldberg and had a scalp biopsy done and a true confirmed diagnosis."
Bob is a teacher of human biology at Dean College, as well as a training, nutrition and contest prep coach. According to Bob, "Most people weren't aware that it was autoimmune [disease] so we did some educating."
From his perspective, Bob highlights the importance of just being there when dealing with hair loss in women. He not only accompanied Laura to doctor's visits and wig vendors, he helped her search for alopecia support in Massachusetts, which is where the couple discovered Bald Girls Do Lunch.
How a Partner Can Help
"If someone has the ability I would tell them to be that second person in the room. There were times that I heard things that the doctor said or wig vendor said that Laura didn't because she was having a difficult emotional time at that moment."
"Letting the person who is going through it [alopecia] know that you both will do everything to make it better together."
- Bob Hathaway
Being there for alopecia support is powerful. Bob explains, "Better doesn't mean cured. Better may mean finding the right wig, eye lashes, eye brows to make them feel the way they want. Better may mean that the person comes to realize they are ok living without hair."
Support also goes toward acceptance. "Just assure them that you will love them whichever way they are. And lastly, sometime just let them cry on you. That's ok, too."
You can guess that Bob was open and accepting of Laura throughout her transition, and you'd be right on the money. In fact, "It wasn't a transition at all for me. I have seen her bald since the day her last piece of hair came out and I'm fine with whichever way she's comfortable. I think she's stunning either way…The only hard part for me is that I am protective and if someone gives a stare it bothers me as a protective husband….to me, Laura is Laura. When she would wear her wig all the time I would say she's still just Laura, it just takes her a little longer to get ready in the morning."
As a final thought, Bob adds "I honestly feel Laura and I have become stronger as a couple by working through this together…Just be there to encourage, support and love."
---
Our gratitude to both Laura and Bob for sharing their story of love and choices. Did someone special help you through an alopecia episode? Tell us in the space below or contact us BaldGirlsDoLunch.org