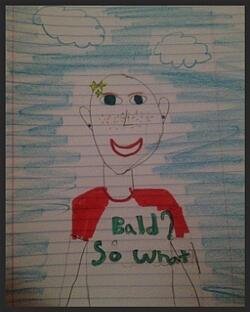 I came to know Jenean and her daughter Rebekah (Becky) after they showed us an adorable self-portrait Rebekah made. I was showin the portrait because Rebekah has alopecia areata. She has had it since December 2013, and though she was once a prolific drawer, Jenean had not seen a drawing from Rebekah in several months. Not since Rebekah had decided to shave her head.
When Rebekah's Uncle Joe gave her a Bald? So What!® t-shirt, the drawings began again, starting with this touching self-portrait seen here.
Today's blog is the first part of a two-part series about Rebekah. In this post, we talk with Rebekah's mother Jenean, and hear about what it's like for a mother to find out her little girl may be bald for her whole life. Next week we will talk with Rebekah directly and hear her wonderful story in her own words.
A Child's Diagnosis With Alopecia
Thea: Was Becky's alopecia onset sudden?
Jenean: It started with a small spot in December 2013. We thought that it was from when she had gum stuck in her hair and figured it would grow back. It didn't. In fact, the spot started growing. We found more spots with hair missing and made an appointment with a dermatologist. It seems like it really accelerated from May to June of 2014.
Thea: Did it come and go in patches for a while at first? Tell me a bit about what treatments, if any, you might have tried.
Jenean: Becky has a big say in her treatment. She is getting steroid shots and she uses steroid ointments and Rogaine, but it is not working. Ninety percent of her hair is missing. I have read that the treatment doesn't work well on large areas. We are thinking about stopping the treatment.
Becky decided to shave her head in June when the stress of watching her hair fall out every day became worse than the idea of having no hair.
Rebekah is number 4 of our 6 children. We have 3 girls and 3 boys. Her sisters and I shaved her head together and we cried together. We decided that we were going to be ok with Becky's new look. We decided to use her sense of humor to help. Immediately after we shaved her head we went to get her younger brother from camp.
He was not aware that we had shaved her head. Rebekah wore her wig to pick him up. After we were in the car driving, she let out a big sneeze and her hair fell off her head. We tried to record the event, but all we managed to get was a lot of laughter from the both of them. It was a relief to hear the laughter after we had cried so much. Rebekah continues to try to play jokes with her wigs.
Thea: Are there other autoimmune disorders in your families? Typical ones are vitiligo, diabetes, thyroid disease, fibromyalgia, lupus to name a few.
Jenean: There are family members with fibromyalgia, rheumatoid arthritis, diabetes, and Churg Strauss (it is a type of vasculitis). I had gestational diabetes with all of my preganancies. I am not a diabetic.
Thea: You mentioned that the self portrait in the Bald?® So What! t-shirt was the first self-portrait since Rebekah lost her hair. Had she made drawings before and then stopped?
Jenean: Rebekah loves to draw. She would make me a lot of pictures. They were usually of our family, or something that had happened at school. They stopped for a while. I had not seen a self portrait for a few months.
A Parent Coping With Their Daughter's Baldness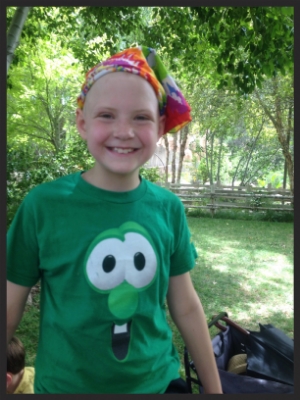 Thea: What words come to mind when you remember how you felt seeing the drawing for the first time?
Jenean: I saw my strong beautiful daughter in the picture. I saw that she accepted herself and that she was pleased with the way that she looks. I posted it on my facebook page and to a local alopecia site. I also sent it to my brother in law who found the shirt and hat and gave it to Becky. I am aware that this is just the beginning of a life time with alopecia but at this moment she is happy. It was a relief. It was a sign that she was OK.
Thea: As a parent, do you have advice for how to get the word out about alopecia?
I have made sure that all of my kids know about alopecia so they can answer questions from their friends. We made a presentation that will be shown to her class on the first day of school. We are lucky in that our family has been going to the same school since 2001. My older children attended the same school. We know a lot of families and kids. We know the teachers. In fact, a staff member actually has alopecia. She told us after Becky had been diagnosed.
Thea: Does Rebekah teach you things about coping with looking different you hadn't thought of?
Jenean: Becky wants to be a kid. She is aware that her hair is gone, but she wants to play and feel normal. I think I worry about things more than her. When it first happened, I mourned all the times that I did not fix her hair. Sometimes it is busy in the morning and the older girls took care of Rebekah's hair. I was relieved that I had spent a fortune at the Bibbity Boppity boutique when we visited Disney a few years age. I have the pictures and the memories. I was sad about her prom and her wedding.
I have since found tons of info about weddings and prom with alopecia. I think we will get through those things just fine. Becky hasn't thought about those things yet, but I will have plenty of ideas when it comes up. I never knew that there could be so many options.
How the World Sees a Young Girl With Alopecia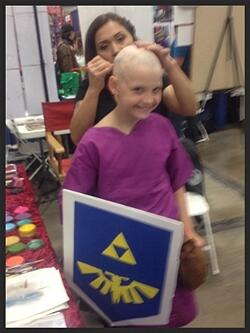 Thea: Does she approach it with advocating for herself amongst her friends and new acquaintances, or has she looked mostly to you for direction?
Jenean: Rebekah is very independent and articulate. She seems to be able to handle most situations so far. As a family, we have accepted alopecia. By accepting, I mean that the kids are allowed to say what they are going to say. All the kids playfully pick at each other about different things. Becky has come up with quite a few humorous comebacks as a result of her brothers and sisters picking. I am sure that she will be fine. In fact, she even jokes about it sometimes.
The other day we were at Target. There were a bunch of people looking at her and Rebekah walks over to the brushes, picks one up, and says, "Mom, I need a brush!".
I looked at her and said, "No."
She continued to follow me around the aisle asking me "Mom, why can't I have a brush?" There was a lot of laughter in that aisle.
Thea: It's hard on parents when strangers stare even though we know that humans are programmed to notice what's different in our environment. Any tips you can share about how to easily and quickly explain why your child has no hair?
Jenean: I haven't been asked by a lot of strangers about Becky's condition yet. We had orientation at her school last night. People we had not seen since last year asked a lot of questions. I just answered them.
Thea: In the BGDL programs, we have had "Bigs and Littles" meet-ups so that the parents of girls can meet adults who weathered childhood, dating, college and all the rest without hair. What topics would be of interest to you?
Jenean: I hope that Rebekah can go to one of these meet-ups someday. I am worried about middle school. I have concerns that she might feel different about herself as she becomes a teenager. Kids are so into how they look in middle school. It's still so new it's hard to think of what else we might need to know.
---
We are truly touched by Rebekah's story, especially the strength she has to look at life so positively (and with a sense of humor). Stay tuned to our blog next week to read Rebekah's story in her own words!