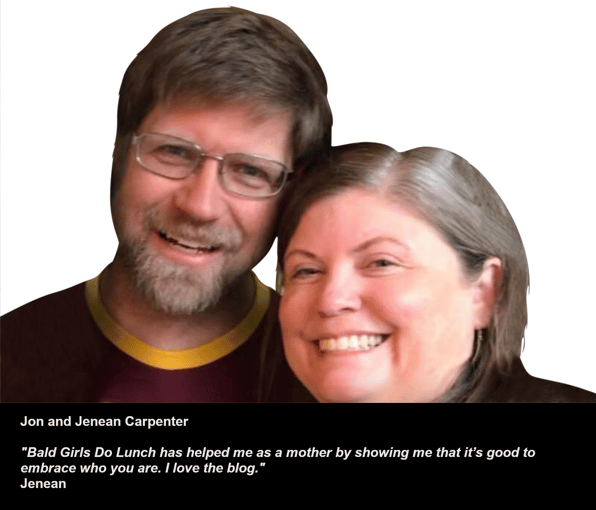 A mom's advice on alopecia areata in adolescence and living one day at a time.
We all remember the transitions from grade school to middle school to the high school years. No matter who we are, the teens are tumultuous, fraught with challenges big and small.
But just imagine navigating adolescence with alopecia. And imagine being the mom, watching your daughter take that journey.

Jenean Carpenter is an RN and mother of six in Albuquerque, NM. Her daughter Becky was just in elementary school when diagnosed with alopecia areata. Jenean has been meeting challenges head-on with Becky every since.

Bald Girls Do Lunch was there with the firsthand, intimate support a young girl and her mother, Jenean, desperately needed.

"We discovered Bald Girls through my brother-in-law, Uncle Joe," Jenean remembers.
"He found the website while looking for a gift for Becky. He bought her the Bald So What® shirt. The shirt made Rebekah really happy, and she drew a picture of herself in the shirt. Her drawing made me really happy, so I sent the drawing to Thea."

BGDL founder Thea Chassin was charmed, and joined 9 year old Becky and Jenean in an Albuquerque event they organized. It was the beginning of a lasting relationship.
Jenean recently shared her candid mom perspective with us, from coping advice to what she's learned from her brave, bald daughter:
BGDL: How's Becky doing?
Jenean: She's doing well. She gets good grades, she loves basketball. As a teen, she's going through the normal stuff, plus alopecia stuff.

BGDL: How do you mean?
Jenean: Well, simple things like going out to get shoes. Because she's bald, she's treated differently. Some people are uncomfortable, they want to know what's wrong. We just want to get in there, get shoes and get out. It takes longer!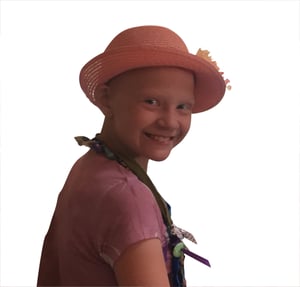 Stylish Becky, age 12
BGDL: We get that. It's hard to be an incognito bald girl.
Jenean: And her emotions are more apparent. If Becky gets angry, her whole head turns red. Adolescence is a time when you are trying to fit in. Alopecia makes her stand out.

BGDL: At 5'11", the kid is already a standout!
Jenean: She's a standout in several ways! She wants to play basketball in college and the only way to do that is to work hard. I think alopecia will be an asset when it comes to recruiting. She's a powerful, strong girl.

BGDL: That's a wonderful way to look at alopecia—as giving your daughter a competitive edge.
Jenean: Athletics make kids stronger. They learn how powerful they are and what they can accomplish. Becky's pretty aggressive when she plays basketball, and sometimes we'd hear booing from the stands. Her coach came right to her defense. And she has such a good group of teammates.

BGDL: Speaking of support, we understand Becky has a special friend since we last talked.
Jenean: Yes, a girl the same age with alopecia showed up in her school, in her class. Now she has somebody to talk to. They are best friends.
BGDL: That must give you such reassurance.
Jenean: I'm so glad that happened.

BGDL: And how are you doing?
Jenean: I'm doing okay; it's one day at a time. I take my lead from Becky, how she wants us to handle things. She makes fun of me, because I'm like, 'Hi, I'm Jenean and my daughter has alopecia areata.' We've never been secretive. We don't spend time hiding.

BGDL: The teen years are just so judged in terms of appearance.
Jenean: Becky started wearing wigs just as the other girls were doing their hair. But because she's so active, she doesn't wear them often.

BGDL: Lookism is real for women at every age.
Jenean: As a mom, I want Becky to do whatever she wants to do, whatever makes her comfortable. Both my husband and I encourage her to go bald—it's part of who she is, bald and beautiful.

BGDL: It was Becky's decision to shave her head. How was that moment for you as a mom?
Jenean: Well, her hair grew in and fell out over a couple of years. When it all fell out, that was hard, because we were really hopeful. I thought it would be a tragedy, but it really wasn't that upsetting to her.

BGDL: Becky radiates vibrancy and good health.
Jenean: Thankfully, she's a pretty girl with a beautiful head! Her eyelashes and brows are sparse. She goes to a Catholic school with a no-makeup policy, but the principal has let her work around it and wear false eyelashes.

BGDL: What's the best advice you'd give to the parents of a bald girl?
Jenean: I read a lot on the Internet, but it comes down to this: If you're upset, your daughter will be upset. If you stay calm, she'll be calm. Everyone deals with alopecia differently. Whatever way you are doing it is the right way for you. I say to Becky, "I'm glad you're happy." We emphasize the positive.

BDGL: Do you see Becky as a role model for other bald girls?
Jenean: She might be. She's talked about being a motivational speaker.

BGDL: What else would you share, from the mom's perspective?
Jenean: Bald Girls Do Lunch has helped me as a mother by showing me that it's good to embrace who you are. I love the blog. I love seeing all the women who are being themselves, and kind enough to let others see the struggles they have had. It helps me to anticipate issues Becky might have in the future.


Bald Girls Do Lunch has a powerful impact on girls and women with alopecia areata, and the families and friends who love them. Would you like to explore hosting a Bald Girls Do Lunch event to be of service in your local community? Contact Thea Chassin at thea@baldgirlsdolunch.org.