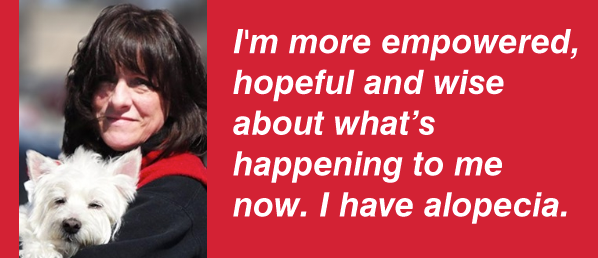 When grandmother, dog lover and preschool owner Joyce Abate of Norwalk, Connecticut was diagnosed with alopecia areata, despair and sadness flooded over her.

That's an understandable reaction and an ongoing struggle for so many because the condition can bring a roller-coaster of emotions. We welcome you to this personal story of one woman who knows the isolation and anxiety. Find out how she brought calm and relief back into her life.

"Women love their hair—it's an innate characteristic of each of us," says Joyce. "The result to our emotional lives is staggering. We are lost in a world that finds beautiful people important. We lose ourselves in the bowels of this disease that we cannot control."
As a way to wrest back some control, Joyce began scouring the Internet for information.

So Much Information, So Few Solutions
She remembers that while it was relatively easy to find information online, most of it fell short.

"So much of it left me without hope for the future and without avenues for solutions."

Worse still, a lot of what Joyce found was inaccurate and out of date, forcing her to sort through a bewildering array of data.

What struck Joyce in particular was the lack of emotion in what she was reading. When she found the Bald Girls Do Lunch blog, everything changed.

"Having information that comes from a source such as Thea—she is one of us—makes an emotional difference. She shares our struggle."

Joyce praises the BGDL blog, newsletter and website for their timeliness; and she trusts the accuracy and validity of the resources: alopecia education, empowerment, support and coping tips that our community of supporters makes possible.

As a result, Joyce is optimistic. "I am so grateful to have found BGDL. I feel more empowered, hopeful and wise about what's happening to me now."
In the Company of Extraordinary Women
Joyce's alopecia education took another leap forward when she attended her first Bald Girls lunch.

Being a part of the BDGL community—both online and in person—has been a safe haven for Joyce.

"Through sharing, we learn we are not crushed or broken," says Joyce. "We are able to move each other to the point of acceptance instead of inhibition; peace instead of despair. I leave feeling beautiful because of who I am inside, not because of my hair."