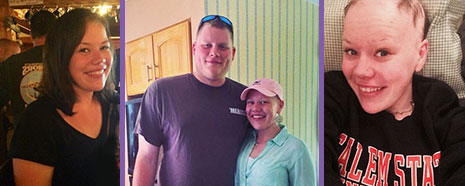 When Christine found out that she had alopecia areata in June 2014, it was at a very painful time in her life. She's a 22 year-old Massachusetts student who has wowed us with her story and resolve. This week, Christine shares the strategies that got her through a difficult first year.
Becoming More Comfortable In My Skin
My mother passed away at the same time I was diagnosed, so my aunt has been the one who has been taking me to try on wigs. My family has been incredibly supportive. When I was first losing my hair, I kept thinking about what's going to happen next. Will it be my leg hair? Eyelashes? Eyebrows? Now that it's all gone, I feel less worried about the hair and more concerned about healing. My boyfriend, Chris, definitely deserves recognition because he has been nothing but supportive with this transformation.
"It's taken me almost a year to realize that I can't change what's happening."
The biggest challenge is feeling pretty in my own skin again. I'm not there yet, but I am becoming more comfortable day-by-day. It's taken me almost a year to realize that I can't change what's happening. That realization almost feels like a weight lifted off of my shoulders.
How I Told My Boss — And Started Going Bald At Work!
I just could not face the summer weather with my wig. I was working for a police station at the time and my boss knew about my alopecia. I sat down with him one day, and I was like, "Everything's gone. My eyelashes, eyebrows, everything. So, if you're okay with me not wearing a wig to work and wearing a baseball cap instead, I would feel much more comfortable." He was one hundred percent understanding, and I felt SO much better walking into work.
Out, Bald, and Confident
Before, I would put my wig on in the parking lot before walking into work. I hated it. I found that this transition to bald helped me regain my confidence because I didn't have anything hiding my disease. It was all out in the open for people to see. The best part was that they didn't treat me any differently.
I find that raising alopecia awareness is challenging because not a lot of people know about Alopecia. When I try to tell them, a majority of the time they stop listening when I say, "I'm not sick, and it's just a disease that makes my hair fall out."
Finding Bald Girls and Finding Peace
When I was first diagnosed with Alopecia, I searched high and low for cures. When I realized that there was no cure regardless of what I typed into Google, I started looking for other people who were in the same boat. That's when I stumbled across BGDL, and I kept checking the website to see when Thea would be in the Boston area. I had a great time at my first lunch, and I found so much peace in meeting other people with this disease!
---
---
Thanks so much to Christine for sharing her story. Have you alopecia support right there within yourself? Share in the comments below.
Bald Girls is here to connect you with inspiration to Live Well with Alopecia™